If you've never heard of a serger before, it's basically a sewing machine used to trim seams and enclose them in the fabric edge. 
A professional sewer needs to have a serger sewing machine in order to maintain professionalism in their designs.
Sergers these days are effective and made for user convenience.
The best serger sewing machines are designed to stand out. 
They come in a distinct build and tend to have different performances from the sewing machine.
Depending on how often you plan on using your serger and what purpose your sewing serves, there are different types of sergers out there, and each is differently priced based on the features, benefits, brands, and models.
We took the time to review some of the best serger machines on the market and here are the results.
Best Sergers Reviews & Recommendations For 2019
Best Overall Winner: Brother 1034D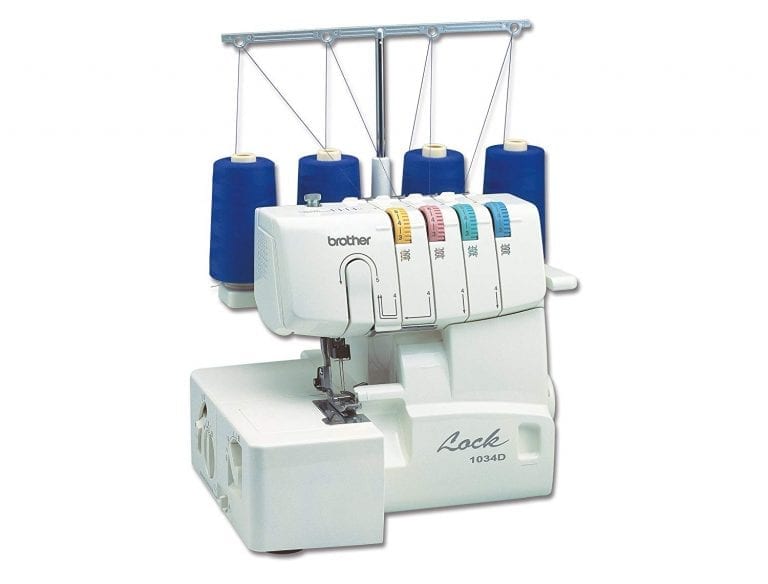 The Brother 1034D 3 or 4 Thread Serger is designed for trimming the edges and hems of fabric. It is suitable for fabrics like linen and stretchy fabrics. You can also use it to create ruffles and decorative edges.
The serger also features a 22 stitch function and interchangeable creative feet that are snap-on. The stith options include a 3 or 4 thread overlock. The differential fabric feed helps you achieve a better quality of stitch.
Some other bonus features include the adjustable stitch width function, easy threading, and removable free arm. It also uses the standard sewing needles and its pretty fast at 1300 stitches per minute.
Runner Up: SINGER ProFinish Serger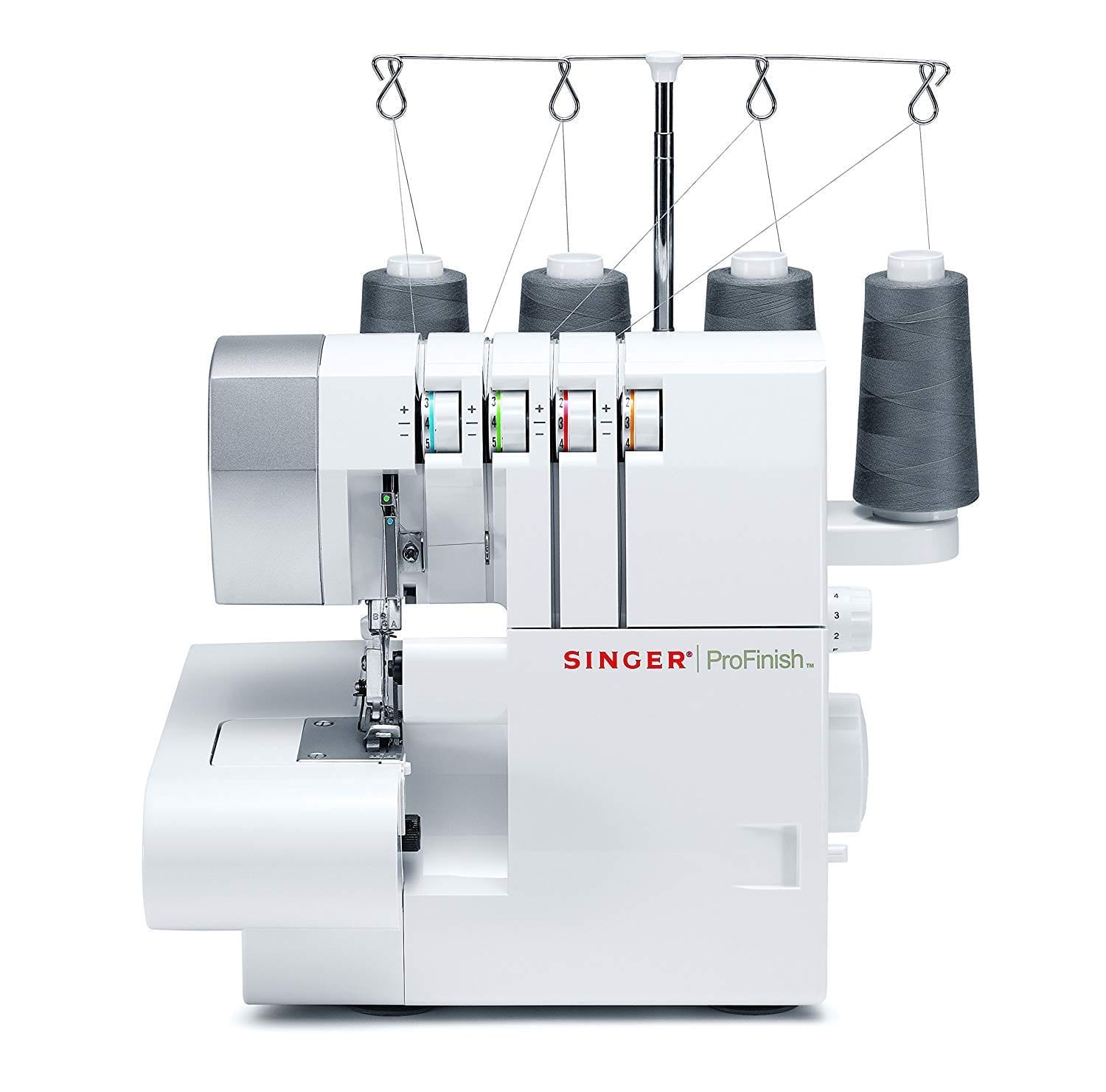 The SINGER ProFinish Serger Sewing Machine has two, three, and four-thread capability. This provides you with a wide selection of stitch options for various types of projects.
Furthermore, you get professional results each and every time. The hems, seams, and seemed finishing saves you time and effort. Ultimately the multiple stitch options and fabric combinations will enhance your creativity.
Other features of the sewing machine include a differential speed. This is a fully adjustable differential feed that ensures even feed for the perfect seams on various types of fabric. So you don't have to deal with puckering or breaking.
The movable upper knife is easily moved to avoid trimming of the fabric while you are sewing. Altogether it has 1300 stitches making this sewing machine super fast. This also allows you to get projects done quickly. The adjustable tension makes adjusting the tension effortless, irrespective of what type of fabric you are working on.
Adjust the length and width of the stitch for all types of fabric. The color-coded lay-in threading system makes threading simple. All you need to do is follow the color-coded diagram printed on the machine.
Some additional features include removable free arm for sewing hard to reach places, extra high pressure food lifter, built in carry handle to take your machine absolutely anyway and an LED light.
Alternative: Juki Industrial Sewing Machine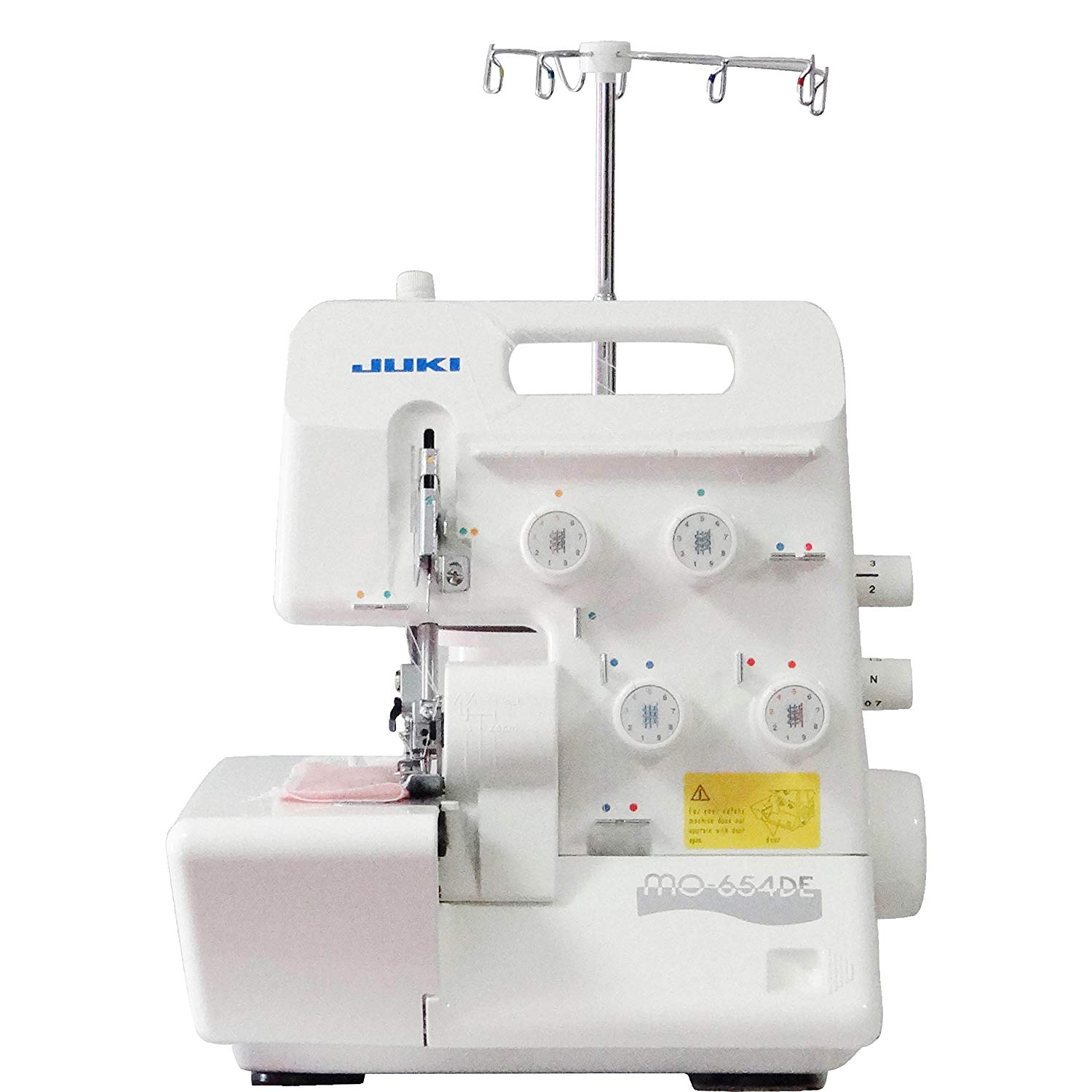 The Juki Industrial sewing machine comprises of advanced technology to give you professional results from the comfort of your home. It incorporates powerful and convenient threading systems, high-quality stitch formation, and ease of use.
This serger has an automatically rolled hymn capability. The color-coded breakaway looper and color-coded threading function ensures correct threading. The knife adjustment is designed for project to project consistency while the upper knife moves out of the way for safe and easy use when threading.
The multipurpose foot allows you to complete a wide variety of stitches and products, including elastic and tape. The safety features include a micro safety switch that locks out the machine motor, and the side cover is open for threading.
A wide variety of pressure feet options are available for the piping, blind stitch, cording, and gathering.
Alternative 2: Designio Series DZ1234 Serger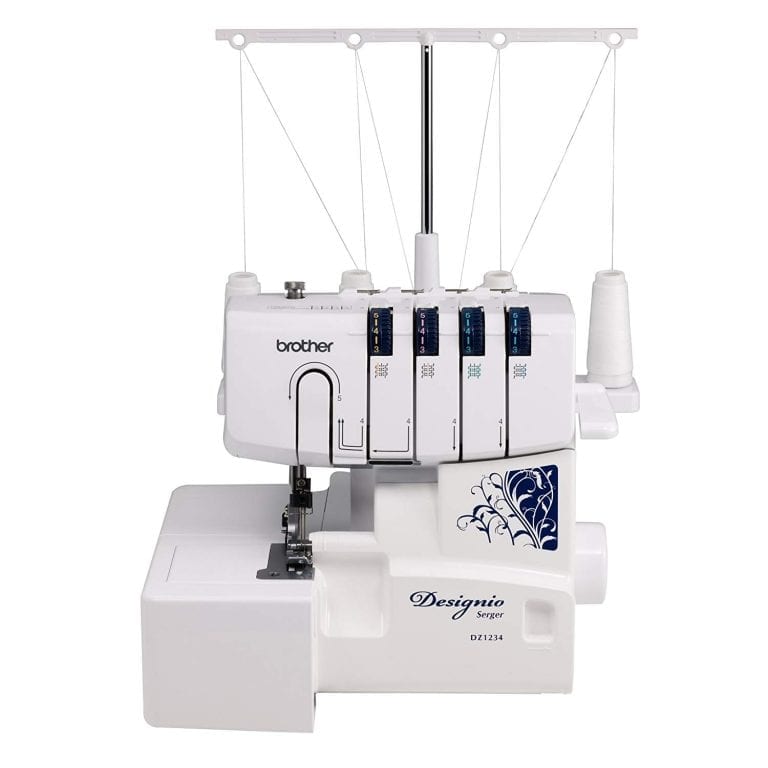 Brother Designio Series DZ1234 Serger is a multipurpose machine allowing you to complete a variety of different sewing tasks. 
If you need to cut and finish garments particularly quickly, and efficiently then this is the machine for you. 
It has both three and four-thread configuration that makes use of differential feed for an even better stitch quality on a wide range of fabrics.
The serger also comes with two sets of starter threads,  a gathering foot, blind hem stitch foot, and a piping foot to give you a wider variety of options. 
Therefore, a professionally finished garment is possible right in the comfort of your own home.
It also includes an instructional DVD that allows you to get to know the workings of the serger reasonably quickly.
Some of the bonus features of the serger include superfast productivity thanks to the 1300 stitches per minute and if the free-arm/flatbed convertible sewing surface.
 It also contains an easy color-coded threading functionality which allows you to achieve struggle-free threading. 
The convenient stitch width control function means you can adjust between 3.0 mm and 7.0 mm finding the ideal stitch to create seamed finishes that are flat, especially on lightweight fabrics.
The best part is that it makes use of home sewing needles.
Best for the Money: Janome MOD-Serger
The Janome MOD-Serger is ideal for developing fashion enthusiasts. The modern serger gives you the necessary features in a compact machine to do knitting, crafting, and beginner denim projects easily.
This modern serger also ensures that your projects are achieved and completed with precision, power, and the confidence that you require. It has a three and four threading option allowing you to select the right stitch for your project. Now you can elegantly finish garments with a quick change of the hem roll.
The quick-change hem roll function allows the machine to fold a piece of fabric neatly underneath and stitch it. So with the flip of a switch, you are set up hem roll stitching.
There is no need to change the needle plate, tension fitting, or foot setting. The differential speed eliminates stretching and puckering of fabrics.
The retractable upper-knife is easy to use without cutting the fabrics. This makes threading safer and easier. The serger has a wide-open threading function for easy viewing while you are threading. The lower loop of the pretension setting slider also lets you thread easier in seconds.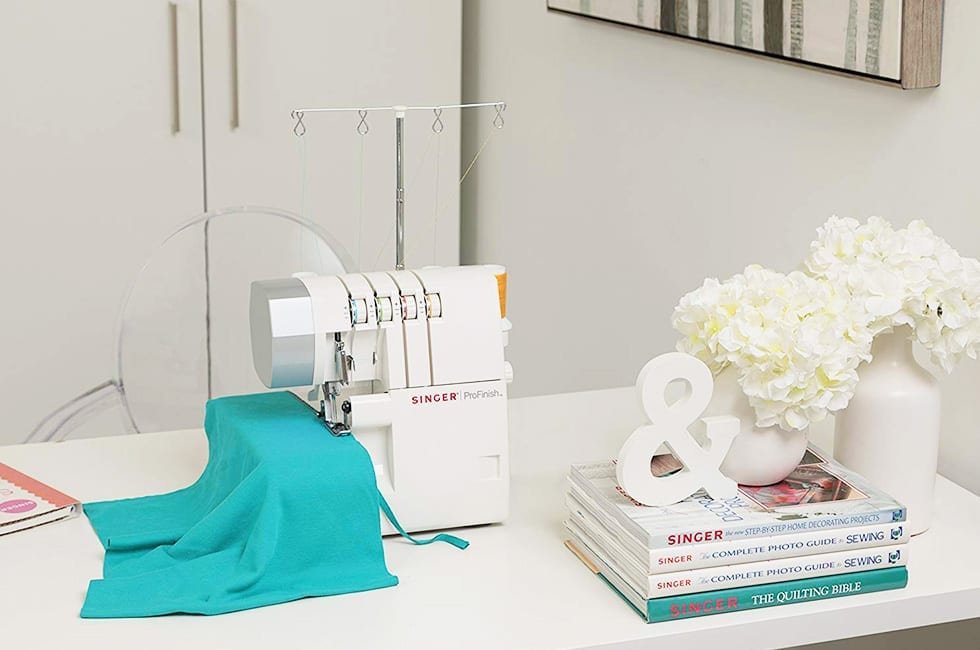 A serger is basically a sewing machine that binds fabric together using an open lock stitch. Sergers make use of 3 to 4 stitches to make the overlock stitch.
Ultimately this is a final of the finishing stitch that you see on your garments like shirts. Sergers trim the seams and encloses the seam allowance at the edge of the fabric.
The variables available on the serger include the width and density of the stitching. The options are different on all sergers, and as is the case with all items, the more you invest, the more functions and options you get.
One of the reasons why you should invest in a serger is because it is faster than any sewing machine. Torn seams are no match for a serger, and you can repair them quickly and conveniently.
Alternatively, making a pair of PJs for your growing child can also be accomplished within a matter of minutes. A serger's basic stitches are much stretchier and sturdier than any sewing machine.
Ultimately this makes your garments and accessories more durable and last longer.  A bonus feature is that the blade slices off the excess fabric as you are stitching.
Ultimately this means that you get perfect seams and you don't need to do any manual cutting.
Sewing enthusiasts often asked the question, do I really need a serger?
Or can I make do with my standard sewing machine?
Ultimately, the answer will depend on what you sew, how often you sew, and how particular you are about your sewing projects.
That said, a serger is extremely handy for giving your garments a professional finish and if you take pride in your sewing projects, you'll definitely want to invest in one. Here are a few reasons why you do need a serger.
If you are sewing with knit fabrics, then you do need one of these machines. If you love stretchy fabrics, it's not a good idea to sew with them on a regular sewing machine. 
Sergers are most suited to knits for one main reason, and that is it offers a differential feed. Differential feed is basically a fancy term for saying that the two parts that feed into the fabric move at different rates.
If you have ever tried to sew knits on a regular sewing machine without a walking foot then you understand exactly why this function is so important. Ultimately the differential feed is what keeps the fabric from becoming stretched.
Sergers give a professional and clean edge on all seams. One of the best things about owning a serger is the fact that it cuts off the fabric as you are sewing. 
The thread is then looped around giving a beautiful clean finish that won't unravel in the wash. 
So basically this also eliminates manual cutting and ultimately a whole lot of effort and time on your part.
Sergers are also much faster than standard sewing machines, and this basically means that you can make the seam and finish the edge in a single swoop. 
Depending on the finishes, you can sew an entire garment with just your serger and not have to use your sewing machine at all.
Creating the rolled hymns on delicate fabrics is achieved with the help of a serger. It has the ability to create something called rolled hems. 
This is basically helpful for fragile and slippery fabrics and those used for special occasions like lingerie.
Sergers also make stronger seams than any standard sewing machine. 
It uses at least three or four threads, and this means that the seams are much stronger than those created by a regular sewing machines and it also makes these items last much longer.
Sergers are much cheaper than you think. The price of these machines has been reduced drastically in the last few years. 
So if you are a sewing enthusiast that wants to get professional results from your sewing projects, investing in a serger is your best bet.
How is a serger different from a sewing machine?
If you've only just considered taking up sewing as a hobby, then you probably already know what a sewing machine is. 
However, you probably don't know what a serger is.
Lots of people and even those that are sewers often confuse a sewing machine with a serger and vice versa. However, there are differences between the two machines.
Some of the basic differences between the sewing machine and the serger include:
The number of needles
A sewing machine only makes use of one needle; however, sergers, since they complete multiple types of tasks, also take multiple amounts of needles in order to get the work done.
Amount of bobbins
Sergers have multiple numbers of needles, and they also need to be attached with more threads. So ultimately a huge number of bobbins is necessary with the serger.
Speed controlling
Unlike sewing machines sergers, have an automatic system that controls the flow of the threads. So it doesn't need to be controlled manually.
Mass production
The mass production of garments, sewing machines, and sergers are needed as they have a significant difference in the way that they work. However, sergers can perform more than just stitching; therefore, it is more productive for mass production.
Efficiency
One of the most important things in any industry is efficiency. Time equals money in every business. So with that in mind, sergers are better for business because they get the job done quicker than a sewing machine.
Changes in design
Although the sewing machine does have some advantages over sergers,  like the fact that you can bend and twist the fabric at any point necessary, with a serger you don't have that option.
However, when you think about the advantages of sergers and the fact that you can get the same amount of work done in a quarter of the time that you would do it on a sewing machine, the benefits of a serger actually outweigh that of a sewing machine.
Is a serger and Overlocker the same thing?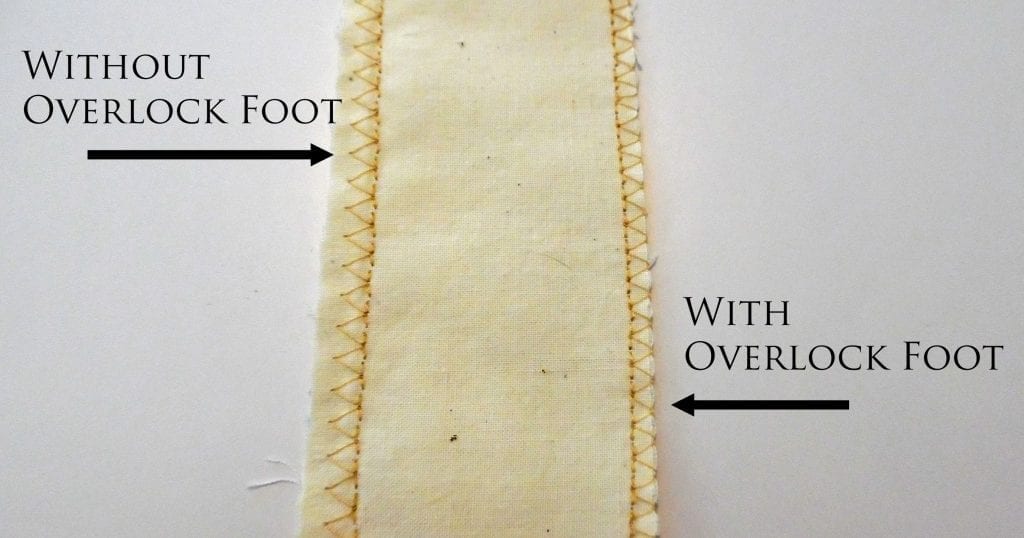 Sergers and overlocking machines both provide similar functions. They both perform the finishing stitches on garments as well as decorative stitches. This is probably why most people use the terms interchangeably. However, they are not one and the same.
The truth is that they both work with needles, a needle plate, and a long foot. They both also accommodate several different spools of thread. However, a serger performs a few tasks with confidence, and that is overlooking, finishing and cutting seams in one quick step.
That said, depending on the make and model some sergers perform even more functions. A serger can contain up to eight spools of thread, and this gives the user multiple options.
In addition to the overlooking stitch, the serger can also perform the flat locking stitch and the chain stitch. More expensive sergers will perform cover stitches too. These machines handle knits, stretch, and delicate fabrics easier.
An overlocker machine may just have the overlock stitch for finishing garments. They also have fewer spools than sergers, and this means fewer options for decorative stitches.
Another overlock stitch that lots of enthusiastic sewers seek is the cover stitch, and this is not standard on any sewing machine. The cover stitch is used to attach lace and trimmings onto a garment.
An overlocker also does not have the cutting blade and attachments to cut fabric as you are sewing. There are some sergers; however, that does not contain the cover stitch.
In some cases, people become so attached to their sewing machines and existing sergers that they would rather just purchase a separate cover stitch machine that delivers that function specifically as opposed to trading in their existing sergers.
Both sewing machines and sergers contain bobbins. 
However, while the sewing machine makes use of only one bobbin, a serger has almost 3 to 5 bobbins attached with 3 to 4 different threads.
Invest in a Serger and Sew like a Pro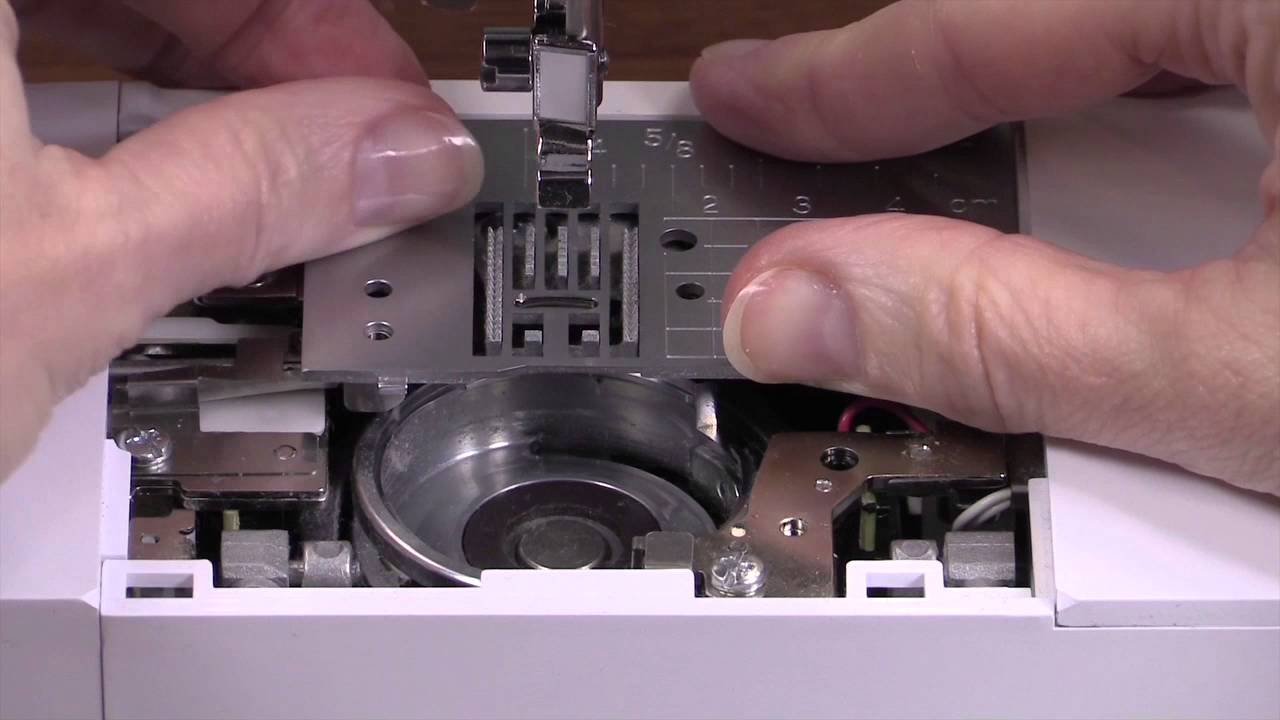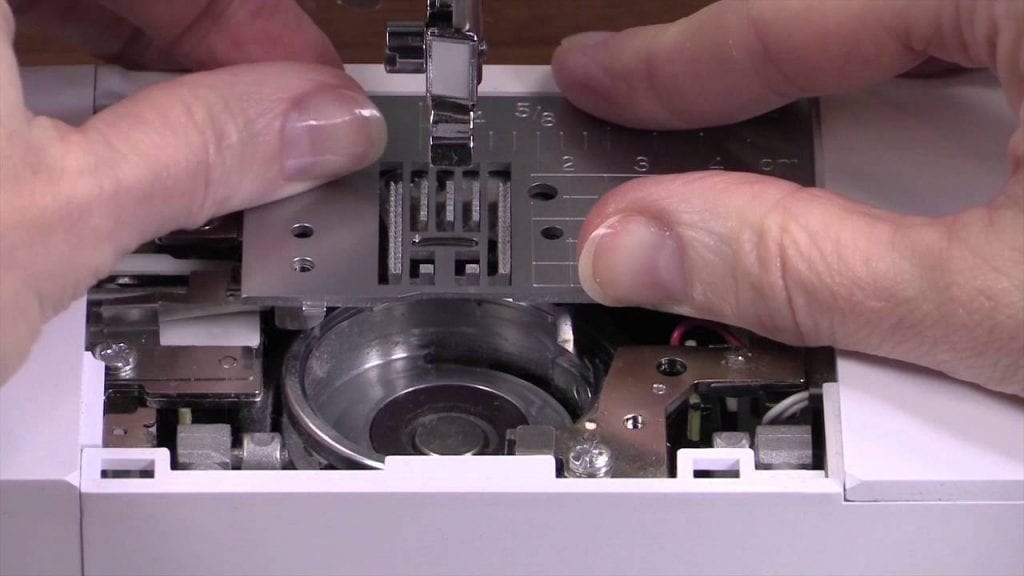 If you started sewing as a hobby, but want to take it to the next level and create professionally finished garments, then a serger is a must-have. 
Not only is it faster than a sewing machine, but it is also more efficient and effective as well.
Sergers are less time-consuming and perfect for industrial uses. It provides your garments with the ultimate professional finishing, and you have the advantage of the blade that cuts the fabric as you stitch.
So if it is the professional look you are after for your sewing projects, then a serger will be a wise investment.
Did you like the article? Please rate it: