Fortunately for sewers new to sewing clothing, there is a long list of quality beginner patterns to pick from these days. 
Below are my favorites, most of which I've sewn for myself (even experienced sewers like easy projects!), but if you venture beyond these, or wonder for the future what to look for, here are some key pointers to keep in mind when deciding if it's a good beginner project or not.
Look For Closures
Learn to study the line drawings and look for closures like buttons and zippers. Great words to look for in the description are "pull-on" or "pull-over" as this means you don't need to open and close a closure to get it on or off. Buttons and zippers will come to be easy with time, but if you're genuinely a new sewer, you should worry first about sewing straight and cutting accurately instead of zipper insertion! 
Consider Fabric Types
Garments designed for stable wovens will be easier than those designed for fabric with drape and stretch. Check out the envelope to see that the fabrics listed include "quilt weight cotton" or "chambray" or "medium weight weaved fabric" and not just "silk" or "stretch-knit" fabrics. I did include some good beginner knit projects below, but don't start with those; work up to them!
Check Out the Difficulty Rating
The level at which the project is rated is completely relative to the pattern company. For example, companies like Colette and Vogue will list patterns with zippers and buttons as "beginner" patterns. What they're saying is that these patterns aren't difficult, but if you've never done buttons and zippers before, these aren't "starter" patterns. So don't trust a pattern that says "beginner" to not have buttons and zippers; rather read the description and study the line drawing to see the difficulty of the construction. 
How Many Pieces?
The more pattern pieces, typically the harder the garment. It makes sense–more intersections, more to line up accurately, more pieces to cut, etc. Again, read the description and study the line drawing to see how many seams are in the pattern. All patterns should have a technical illustration on the front and back to show you things like darts, seams, and such. These drawings will show you how many pieces you'll be working with. Still not sure? Open the envelope to look at the pattern piece inventory and layout to see how many pieces there are. 
DRESSES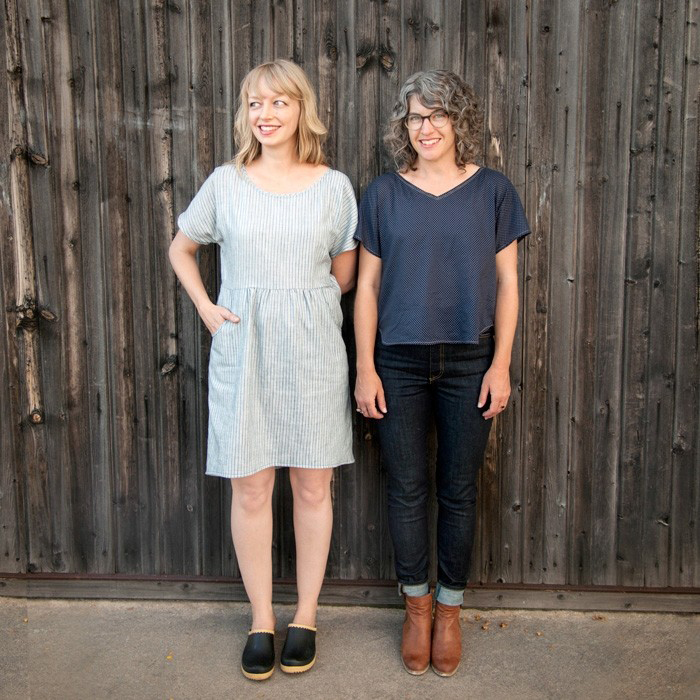 The Fen Dress & Top by Fancy Tiger Crafts
Loads of lovely details to practice, like bias binding, curved pockets, darts, topstitching, and gathering; but the easy shape will remove a lot of fitting pressure!
The Kenedy Dress by Seamwork
This design is elegant and perfect for when you want something to wear to a fancy party, even if your skills aren't ready for a formal frock.
The Sway Dress by Papercut Patterns
Super cute cinched by a self-made belt, or left full trapeze style, this dress has no closures at all. It's nicer when made in something drapey, so if you're looking to try sewing with rayon or a similarly fluid fabric for the first time, this is a great option.
TOPS & TUNICS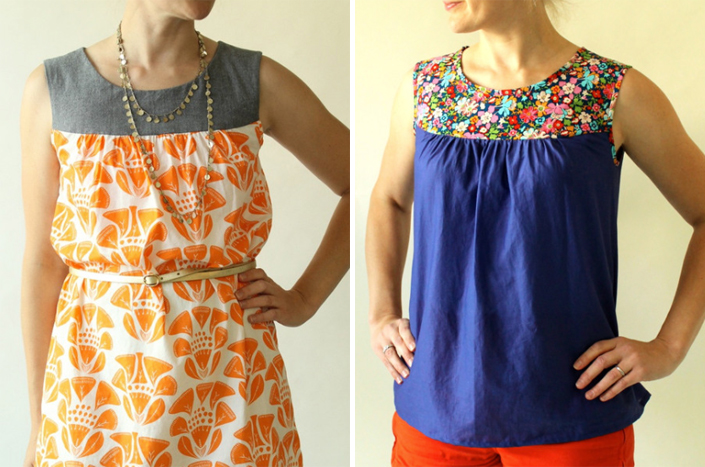 The Ruby Top & Tunic by Made by Rae
Rae is known for her beginner-friendly patterns, though many do have a lot of details like tucks and pleats. The Ruby Top & Tunic is the easiest of the bunch, asking you to only tackle things like bias binding and gathering.
The York Top by Seamwork
Another polished, yet beginner-friendly pattern from Seamwork is the cute York Top. This pattern has you sewing darts and sleeves, which will take your skills up a notch, but thanks to the bias-bound neckline and keyhole opening on the back, there are no closures to mess with.
The Lela Top & Tunic by Green Bee Patterns
This version is not actually sewn by Green Bee, but rather from the lovely Miss Make, but I thought it showed off the pattern really well. This pattern is both easy-to-sew and easy to wear in your everyday wardrobe.
The Scout Tee by Grainline Patterns
One of the things I love about Jen's patterns is that they are all classics for your closet and they seem to be unaffected by trends. This Scout Tee is designed for woven fabrics and is a wonderful wardrobe staple.
PANTS & SKIRTS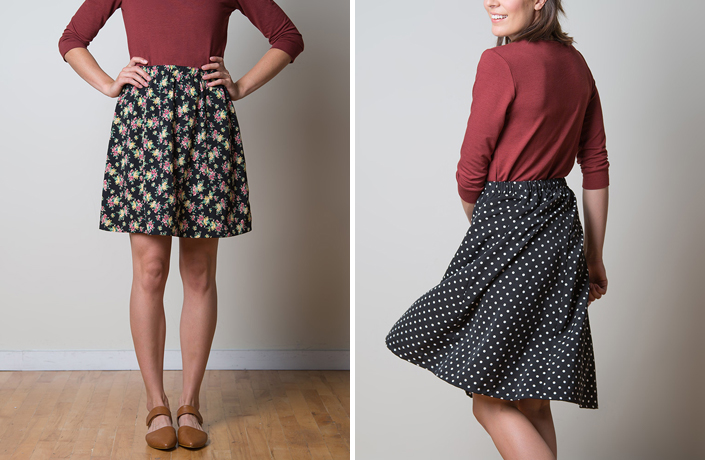 The Rae Skirt by Sewaholic Patterns
When this skirt was released, Sewaholic wrote in the description that it is ideal for new sewers or for classroom situations. With its elastic waist, I couldn't agree more. This skirt is simple to sew and one of the easiest on this list if you're just starting.
The Everyday Skirt by Oliver & S Patterns
Similar to the Rae Skirt above, this skirt is easy to sew, but just a smidge harder because the elastic is only in the back of the waistband, and there are handy side pockets.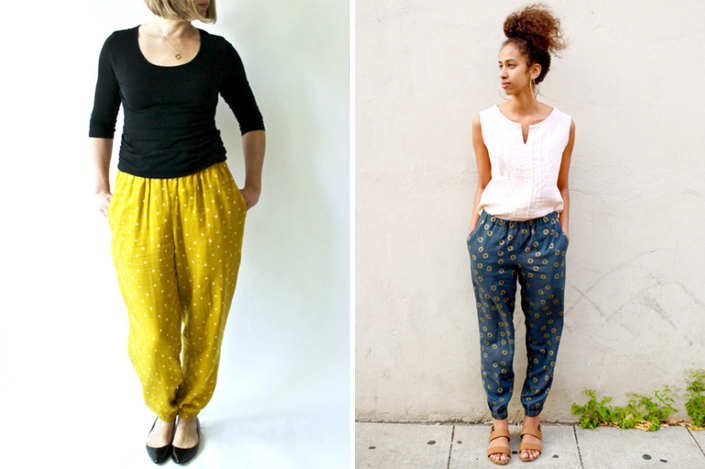 The Luna Pants by Made by Rae
You'll notice that this is the only pair of pants on this list, and that is because pants are one of the trickier items to sew on a beginner-level. Most pants require multiple closures to get them on and off, so to avoid that, elastic is necessary. Sometimes that can make pants look like jammies, but Rae managed to make these look chic, while still keeping them very easy to sew.
The Miette Skirt by Tilly & the Buttons
Tilly's focus for her business is beginner-friendly patterns, and I find it refreshing that her goal is to demystify sewing for a novice, while remaining hip and stylish. The Miette Skirt is easy to fit thanks to its retro wrap design.
KNITS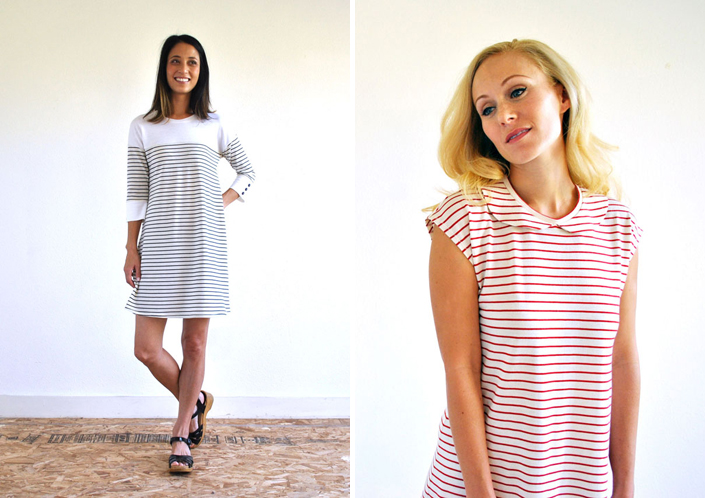 The Marianne Dress by Christine Haynes Patterns
Our Marianne Dress designed for knits, is a wonderful pattern if you are new to sewing with stretch fabrics. There are few pattern pieces to work with, and the button cuff makes a very basic pattern look very polished.
The Linden Sweatshirt by Grainline Patterns
Another great wardrobe staple from Grainline, the Linden can be made in something casual or in a nicer sweater knit for something more dressy. It is very easy to sew and is a wonderful choice if you're new to knits. Just don't pick anything too thick for the first attempt.
The Blair Top by Named Patterns
The loose casual fit of the Blair is easy to sew, but the design is hip and modern. Made in elegant fabric, this top is really chic and won't seem homemade at all.
The Agnes Top by Tilly & the Buttons
If you liked the top in the Miette Skirt photos above, you're in luck! Tilly launched this easy-to-sew knit top as both a pattern and as a learn-to-sew with knits on-line video class. So if you need some hand holding, the video class a great option.
The Astoria Top by Seamwork
Similar to the Grainline Linden, the Astoria is a lovely sweatshirt option. This one is more fitted and hits at your natural waist, making it a great option to pair with a full skirt or over a fit & flare dress. The skirt above is also a great beginner-friendly pattern available at Seamwork.