Are you thinking about taking up sewing as a hobby? 
Well, if you are, you'll be pleased to know that it's one of the most useful skills that you can have. 
In fact, children can pick up the skills in a matter of a day or two simply because it's fun, easy, and safe as well.
However, before you get started, you'll need one of the best sewing machines for beginners to help you learn this useful skill quickly and conveniently.
There's a good chance that you're not sure of exactly what to look for in a sewing machine either.
This is especially if you've never done it before. To help you, we've put together a handy comparison chart so you can discover the most pertinent features and benefits of the best sewing machines on the market today.
Best Sewing Machine Reviews & Recommendations For 2019
Best Overall Winner: Brother XM2701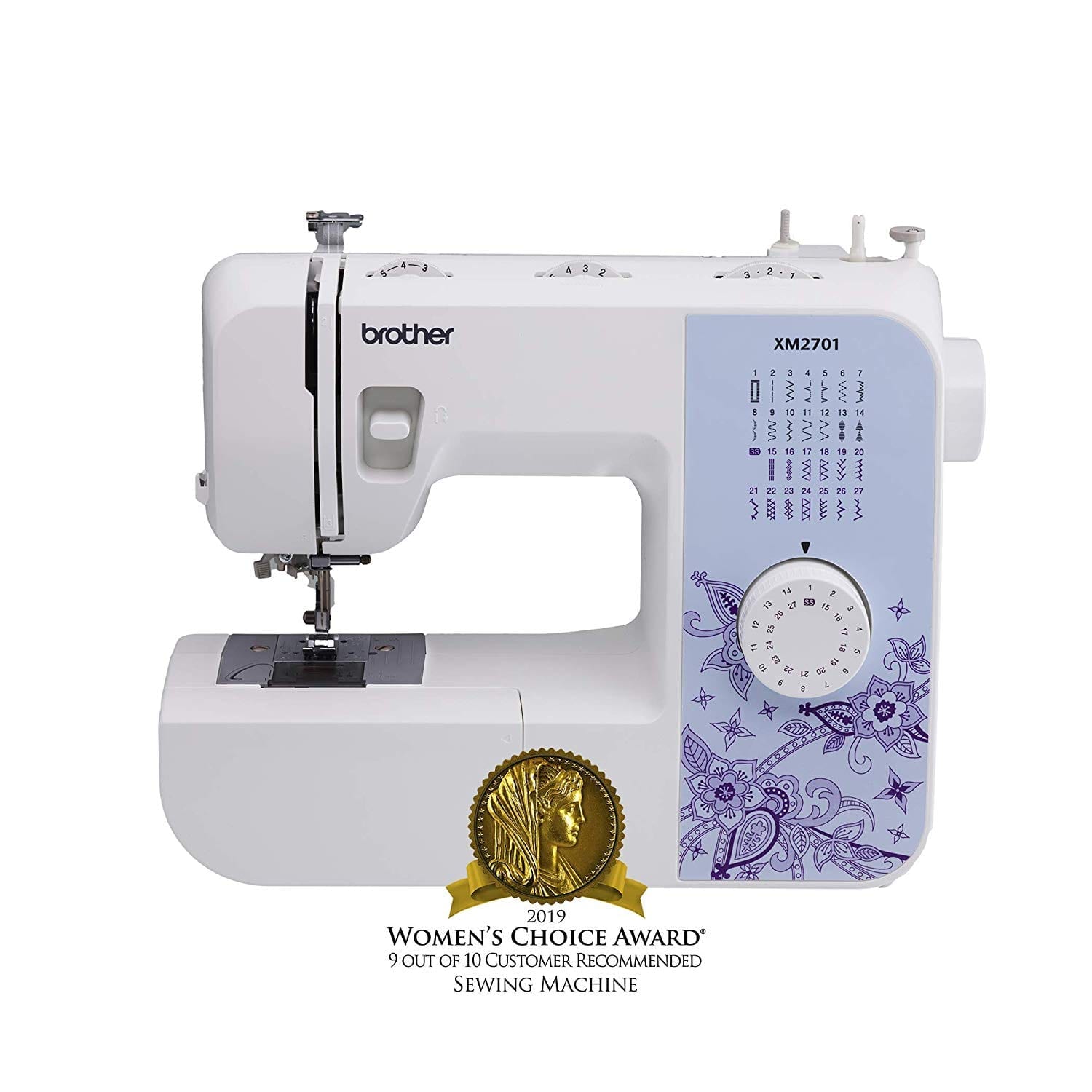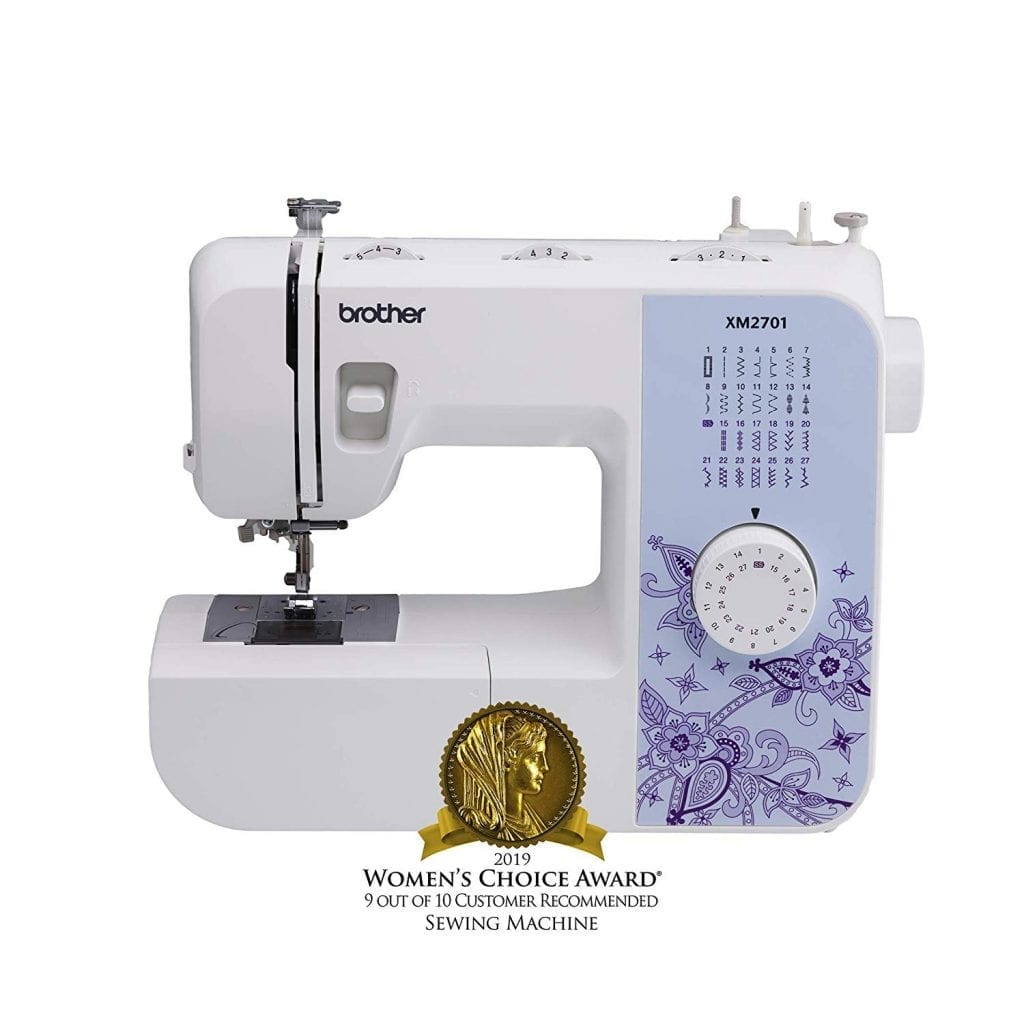 The Brother sewing machine XM2701 is perfect for everyday use and ideal for all sewing projects. 
It has a full range of user-friendly features and incorporates a lightweight design. The is ideal for beginners who are just learning to sew and also for professional sewers looking for portability.
The Brother International Corporation is one of the leading suppliers of innovative products and has earned a reputation throughout the years by bringing to the forefront, sewing, and embroidery masterpieces. 
They are known for their high-quality machines, accessories, and the ease-of-use and flexibility that they offer.
One of the extra features that you can expect with this sewing machine is the one-step auto-sized button-holes feature which allows you to create one step button-holes quickly and easily. It also has an LED lit work area so you can have a crystal clear view of your sewing projects any time of the day or night.
It comes with an instructional DVD as well, which contains all the information you need to start your first project in no time at all. They also offer free online and technical support for the entire lifespan of the product.
This machine has 27 built-in stitches which include decorated and quilting stitches as well as the blind hem. This feature is ideal for a wide range of projects. 
The Brother Sewing machine easy threading system and automatic needle threader which allows it to push the thread right through the needle's eye, with just a touch of the lever which is located on the side of the machine.
The easy stitch selector is a simple as turning the dial. The top drop-in bobbin is jam-resistant and ensures the bulb and stays in place and provides the level off even stitch and reliable.
So to recap, the Brother sewing machine comes equipped with button sewing foot, blind stitch foot, zigzag foot, zipper foot as well as a narrow hem foot.
Runner Up: SINGER's Start 1304 Sewing Machine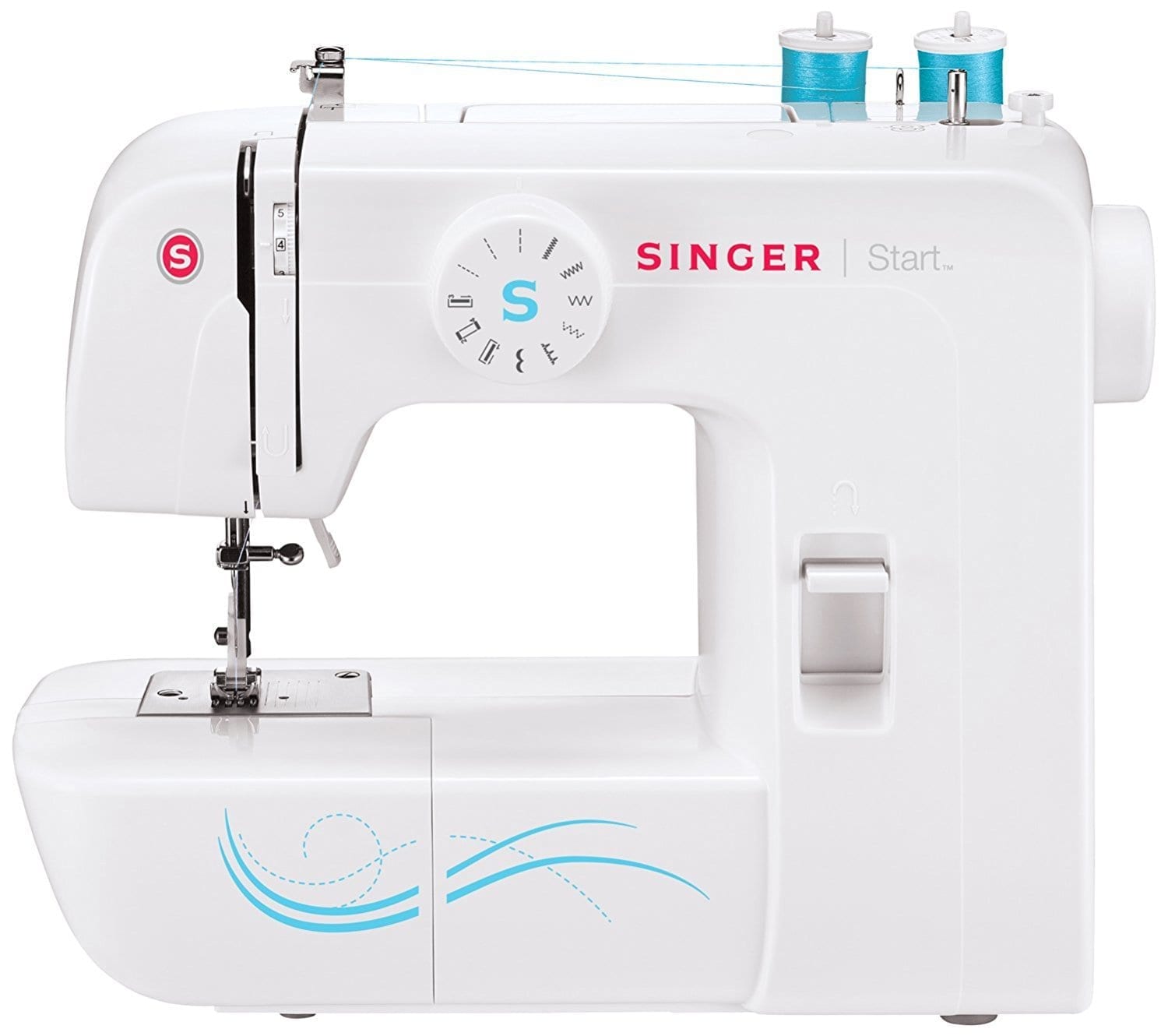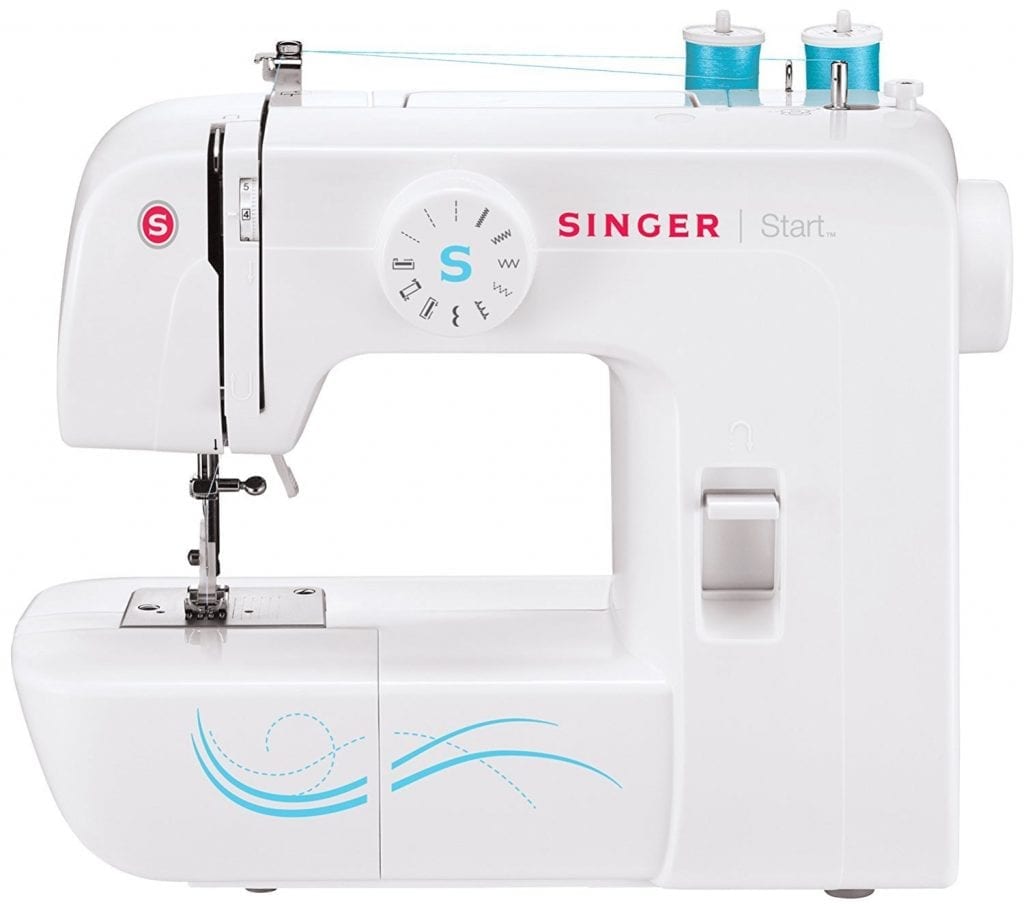 The SINGER's Start 1304 Sewing Machine allows you to choose from 6 basic stitches which you can select by the simple turn of the dial. 
The stitch length and stitch width are preset, so there's no guesswork, and this makes it ideal for beginners and professionals alike.
If you're going for basic sewing, choose the straight stitch. If you'd like to embellish almost anything, then choose the decorative scallop stitch. 
The Singer sewing machine has a four-step buttonhole feature allowing you to add holes in just four simple steps.
Add buttonholes on anything from pillows to children's clothing and many more garments. 
The removable extension table slides off to reveal the free arm for hemming trousers and sleeves or simply undertaking smaller projects. The machine is also lightweight and portable, making it easy to take it with you absolutely anywhere.
Singer is one of the world's leading brands when it comes to sewing machines. 
The company was founded in 1851 and is the manufacturer of both industrial and consumer sewing machines. They have a long history of innovation and have also created the world's first portable sewing machine as well as the first computer-controlled machine.
Some of the additional features that you can expect from Singer include the easy threading option with threading diagrams printed right on the machine. 
This gets you set up in no time. It also has dual spool pins for twin sewing. There are basically two vertical pins that make twin sewing simple and convenient. Parallel rows of stitching are perfect for hemming or adding a creative touch.
The machine is durable as well since the internal skull of the sewing machine has a heavy-duty metal frame, and this holds all things in alignment and offers years of solid use.
The three presser feet is ideal for a number of sewing projects. Lots of features are included for cording, zippers, and piping.
Ultimately these features will be used for the majority of your sewing projects.
Best Computerized Sewing Machine: Singer's Quantum Stylist 9960 Sewing Machine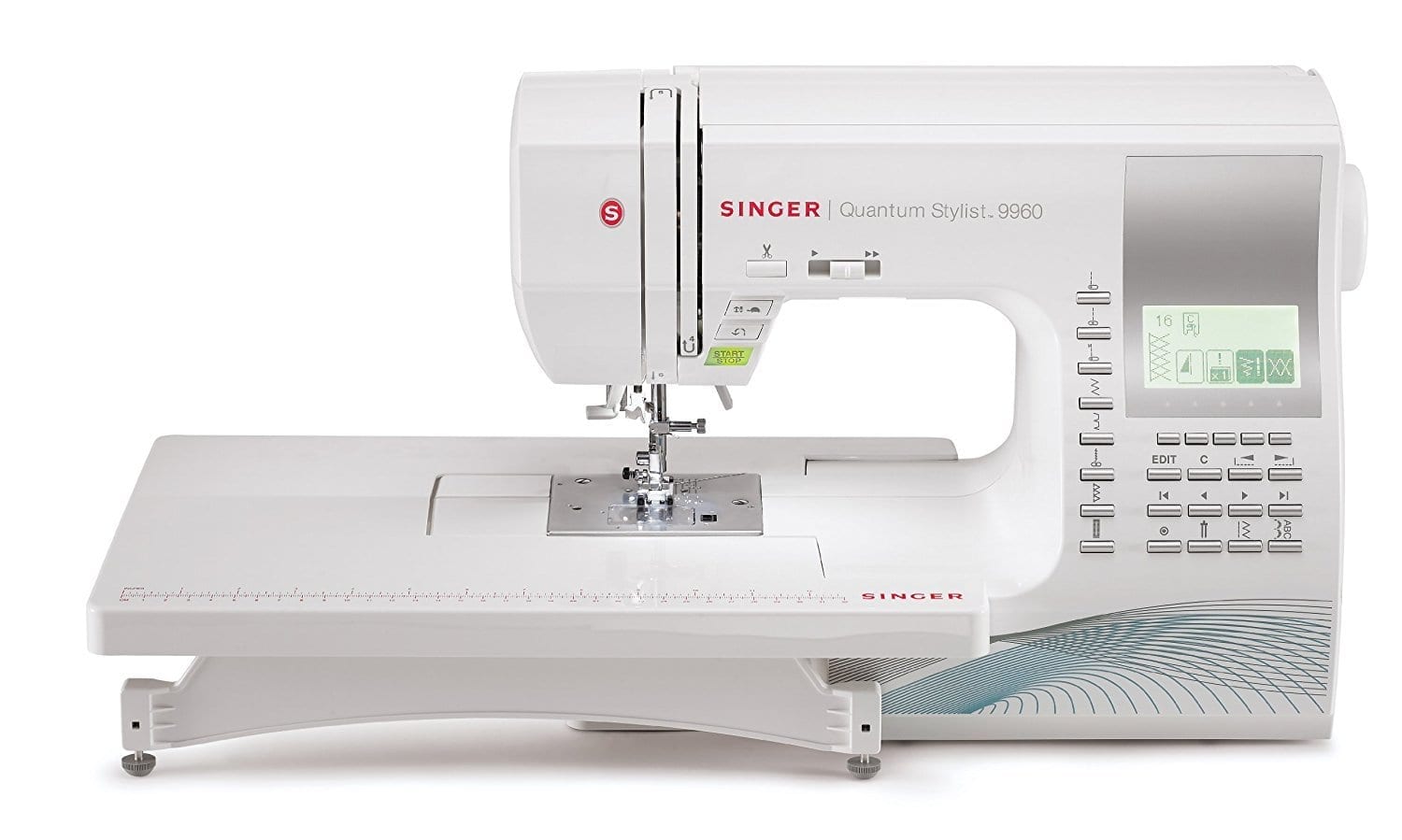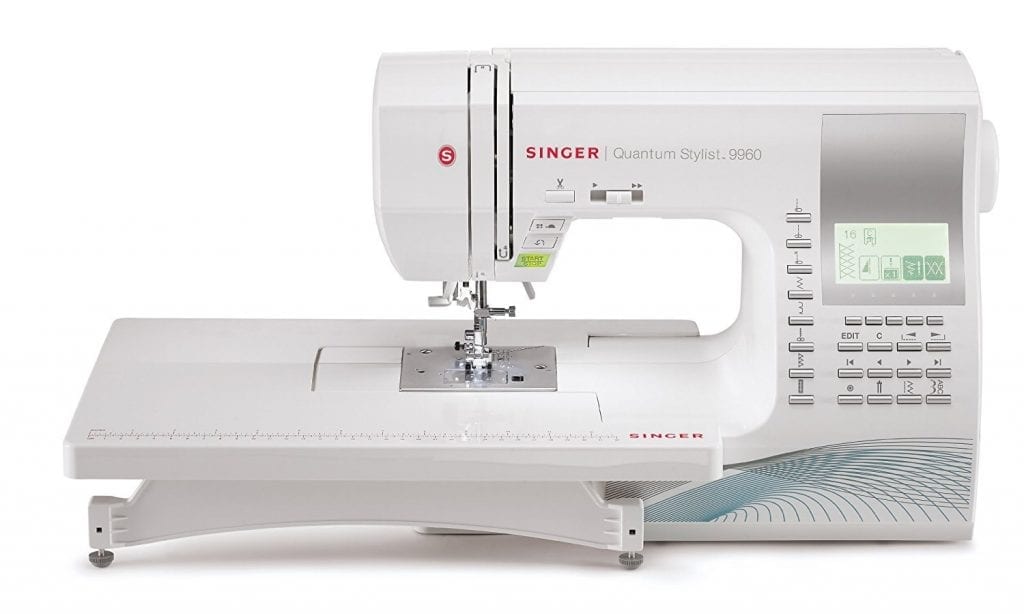 The Singer's Quantum Stylist 9960 Sewing Machine allows you to give each of your pieces that unique touch with the 600 stitches and five stunning fonts.
Mix your lettering and stitches to keep unique sequences for endless possibilities in custom projects. Even more options are available when you mix mirror images and elongated stitches.
The needle up and down feature makes it simple to pivot sewing on the pocket, free-motion quilting, top-stitching as well as an applique and many more styles.
The maximum sewing speed on the machine can be selected using the speed control function for faster long seams that go on your curtain panels. Adjust the speed to a slower setting for more intricate projects, so you will always be in control.
The top dropping bobbin is convenient to the thread and simple to see so you won't run out of thread in the middle of your seem. A simple press of the thread from a button will cut both the top and bottom threads when you're done with the stitching. This saves you time and effort as well.
This machine has all the features that you need to complete your masterpieces in a heartbeat.
Some of the extra bonus features on this machine include the easy threading system with a built-in needle threader, so you can go from the spool to the needle's eye in a couple of seconds. 
The easy to load top drop-in bobbin system has a clear cover so you can monitor the bobbins supply all the way.
The extension table provides a larger working area which is ideal for quilting or when you have much larger projects to work on. 
There's a 13 built-in perfectly sized buttonhole style function which is a simple one-step process that provides reliable results every time. All you need to do is place the button in the buttonhole foot, and the machine sews the buttonhole perfectly sized for that specific button.
The 600 built-in stitches function allows you to explore your creative genes with a large selection of stitches, including decorative, stretch, and basic stitch which are all perfect for quilting, home decor and crafting.
The one-touch stitch selection makes using this machine a complete pleasure. Eight of the most commonly used stitches are placed conveniently on the front of the machine. It also has an electronic twin needle setting for stitches besides the straight stitch. 
The sewing machine reduces the width of the stitch for sewing with a twin needle so that, while sewing  the needles clear the foot. It has a robust frame that will last you for years to come.
The sewing machine from Singer offers optimum power control, snap-on presser feet, center zigzag taper, automatic extension, automatic locking stitch function as well as a large backlit LCD screen with the brightness control. 
The adjustable bias binder foot and an array of other functions all make for easy and convenient usage.
Best for Beginners: Brother Project Runway CS5055PRW Electric Sewing Machine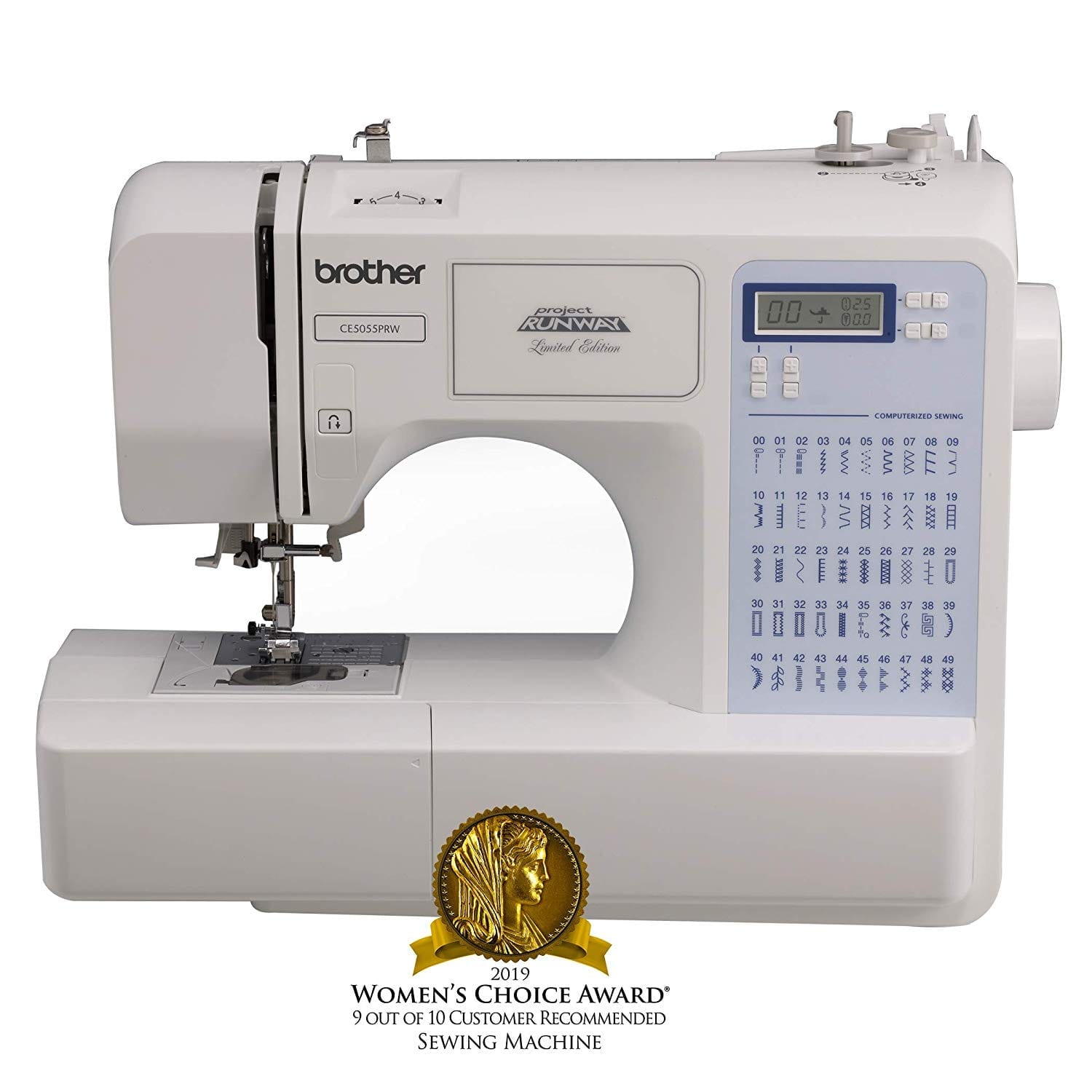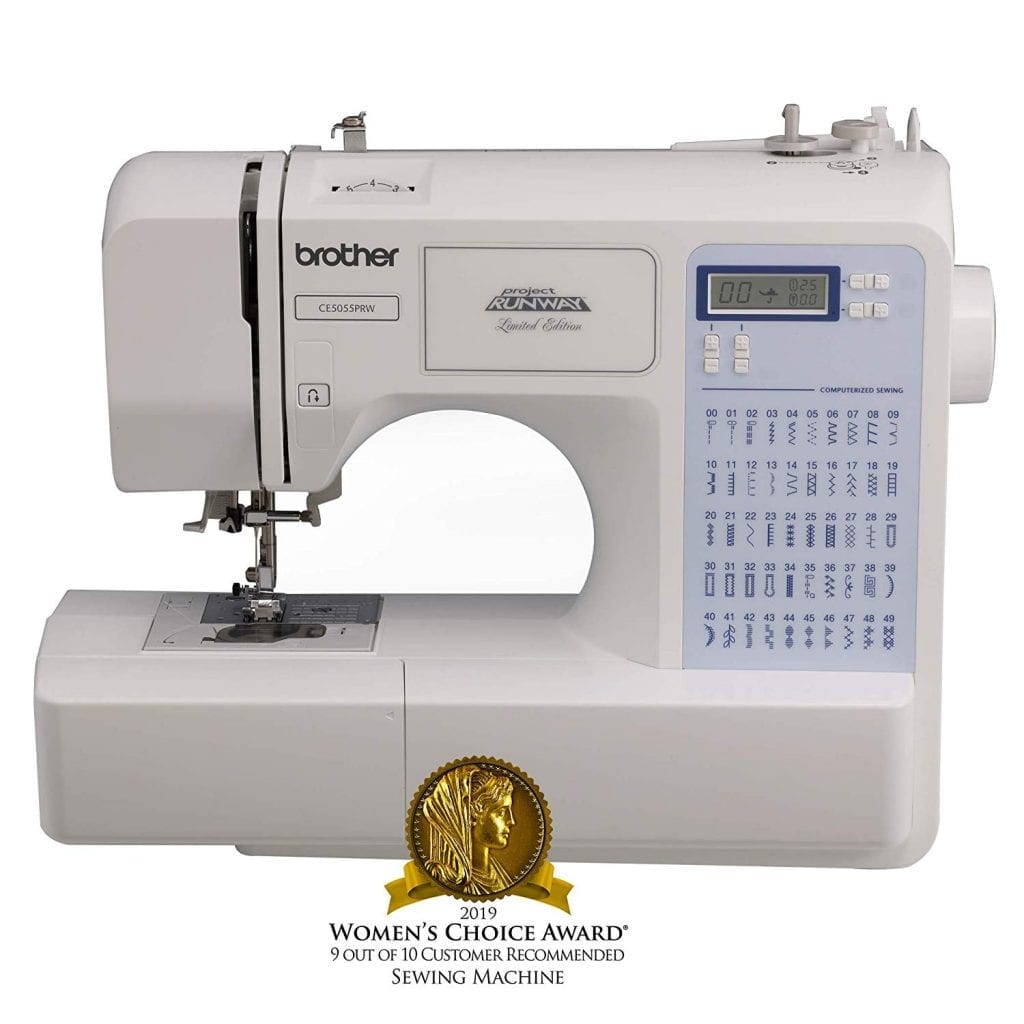 High-end fashion can be created at a reasonable price with this simple to learn and utilize sewing machine. The machine is computerized and offers complete sure level solutions to help you elevate your style in any way.
Beginners will experience easy and reliable threading of both top and bottom threads. 
It offers virtually effortless sewing on a wide range of fabrics and also allows you the ability to add professional quality buttonholes, zippers, overcasting edges, and decorative topstitching.
It has 50 built-in stitches and covers a wide range of utilities, and the entire selection of stitches is printed on the front of your machine. It also has 6 specialty sewing feet and a fully instructional manual.
Runner Up: KPCB Mini Sewing Machine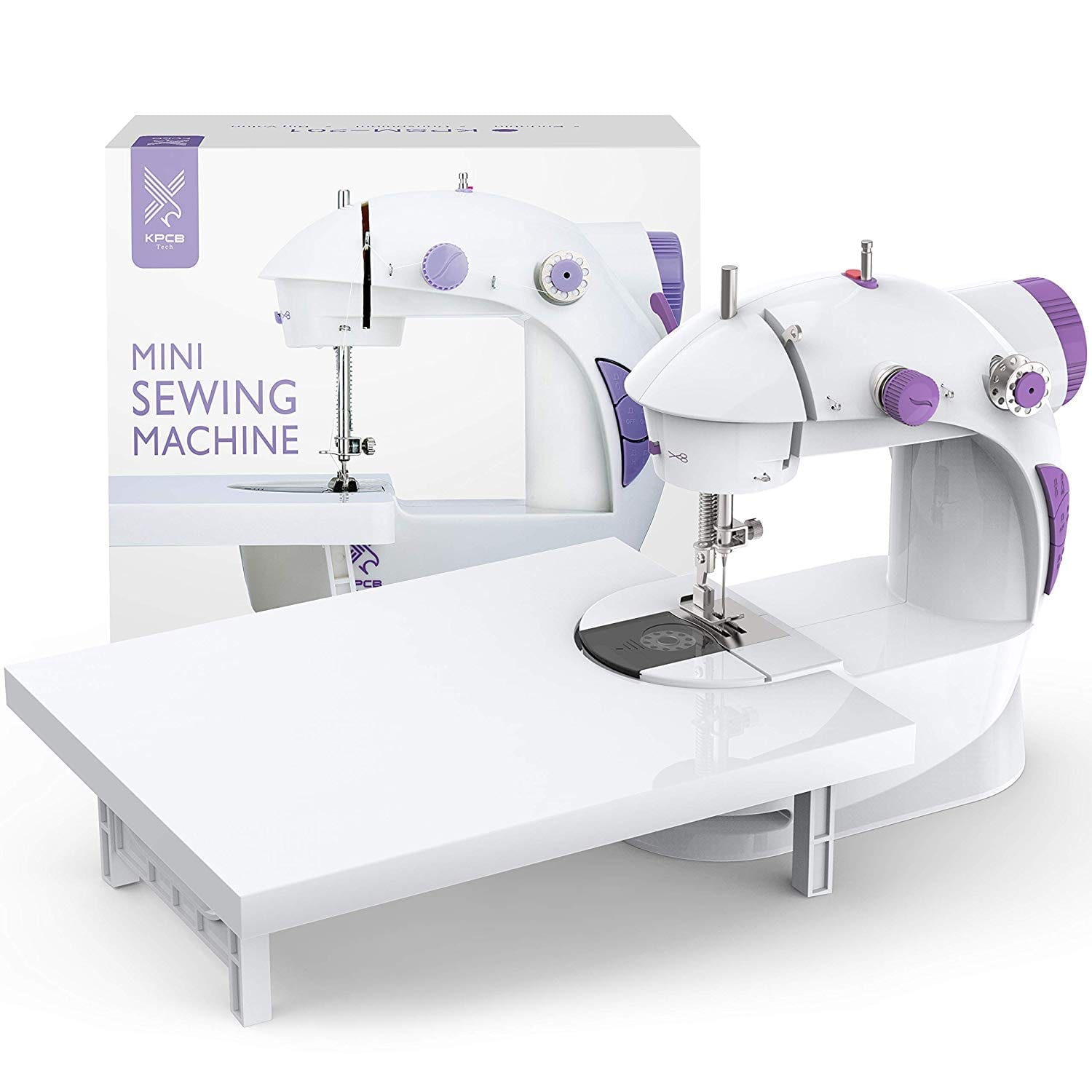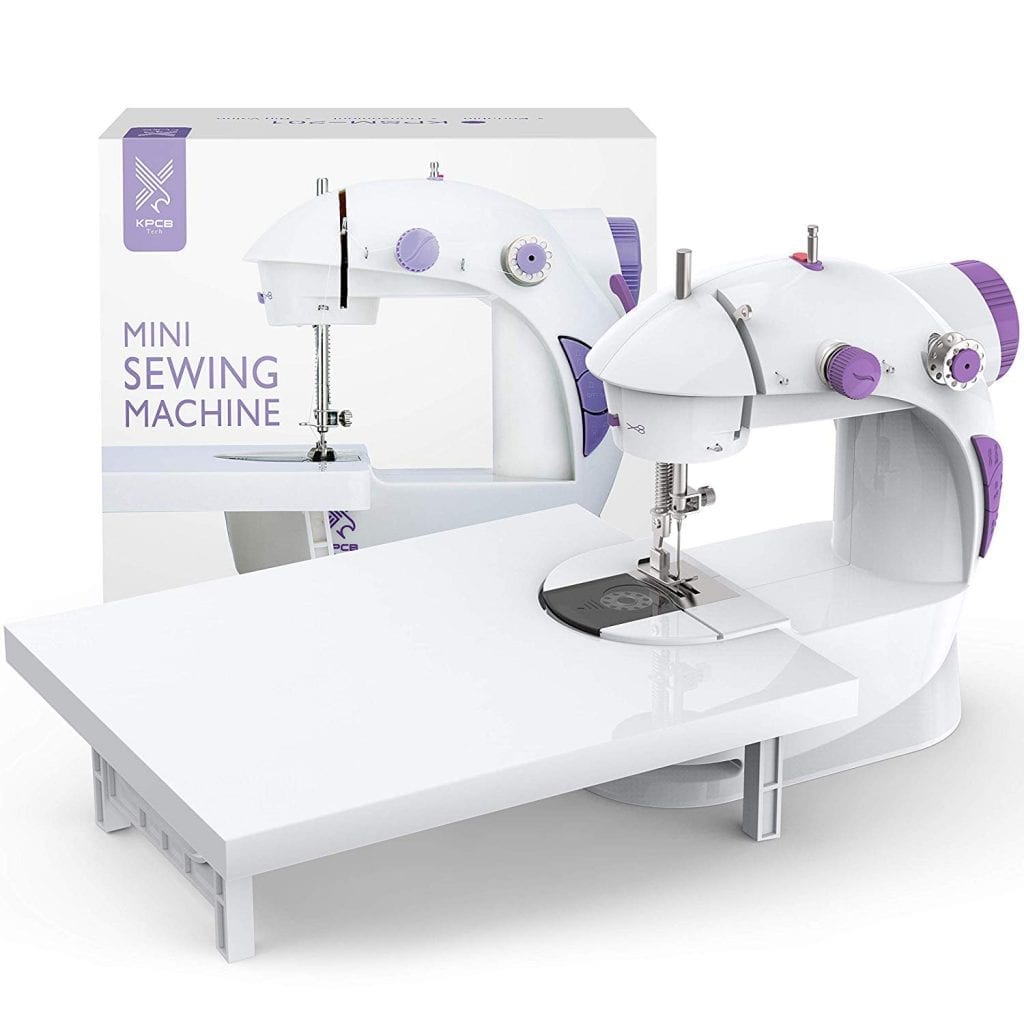 The KPCB sewing machine is a basic sewing machine with only one straight-line stitching function. 
Ultimately it's designed to support small stuff or simple sewing functions. It's more useful due to its exquisite designs such as the built-in thread cutter and lamp.
It's also perfect for kids because it's the appropriate size; however, adults can make use of it as well. 
Compared to other sewing machines, it has upgraded material, and most of the accessories for this product are updated as well.
Environmentally friendly material is used to improve the quality and durability of accessories. The manual is also updated, including more specific directions. 
With the KPCB sewing machine, you also get tutorial videos to make your sewing projects simplified.
Some of the features you can expect with this mini sewing machine are multiple electrical operating functions. 
It supports battery power supply and adapter usage. The machine can be turned on by using the foot pedal or on/off button.
You can use a variety of different fabrics on this machine, including linen, denim, cotton, silk, soft jeans as well as hard wool. 
It's also compatible with a wide variety of needle sizes. There's an automatic bobbin rewinding function and also has a built-in thread cutter for easy, convenient, and effortless sewing.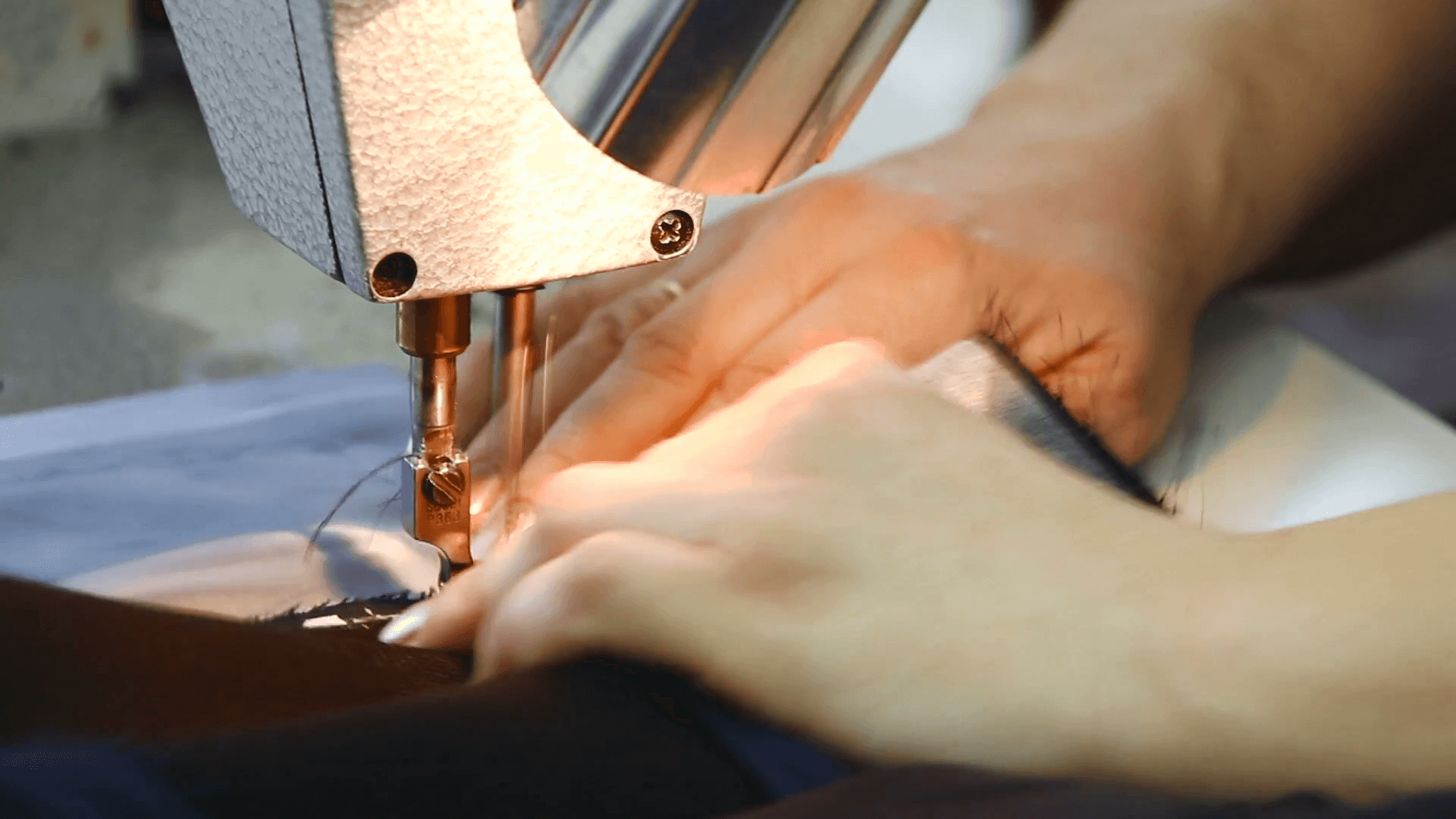 What are the types of sewing machines?
There are different types of sewing machines suited to a specific environment and purpose. 
To be more specific, there are industrial sewing machines as well as domestic ones. 
Here is the difference between the two
Industrial sewing machines
Industrial sewing machines are used in factory settings. They are designed to make shirt cuffs and waistbands in jeans. It is built specifically to conduct long-term and professional tasks.
The construction of industrial machines is slightly different from that of domestic ones, and this is because the motors and other parts are highly durable. 
The accessories such as the connecting rods, gears, housing, etc. are all made cast aluminum which is high quality and extremely robust.
These machines also larger in size as compared to domestic sewing machines. They can perform a large number of tasks in a minimum amount of time. Therefore they also more expensive than domestic machines.
Industrial machines can probably work on any brand, and the motors are interchangeable.  The straight stitch machines are the same. The bobbin and sewing feet between industrial brands are also interchangeable.
Industrial machines have two types of motors, servo, and clutch. Firstly the servo uses less electricity and is more silent and than the clutch motor which always spins even when it's not in use.
When it comes to industrial machines, there are four specific types that are made according to design and the arm and needle post. The four types are the flatbed, for Cylinder bed, post-bed and off the arm type.
Flatbed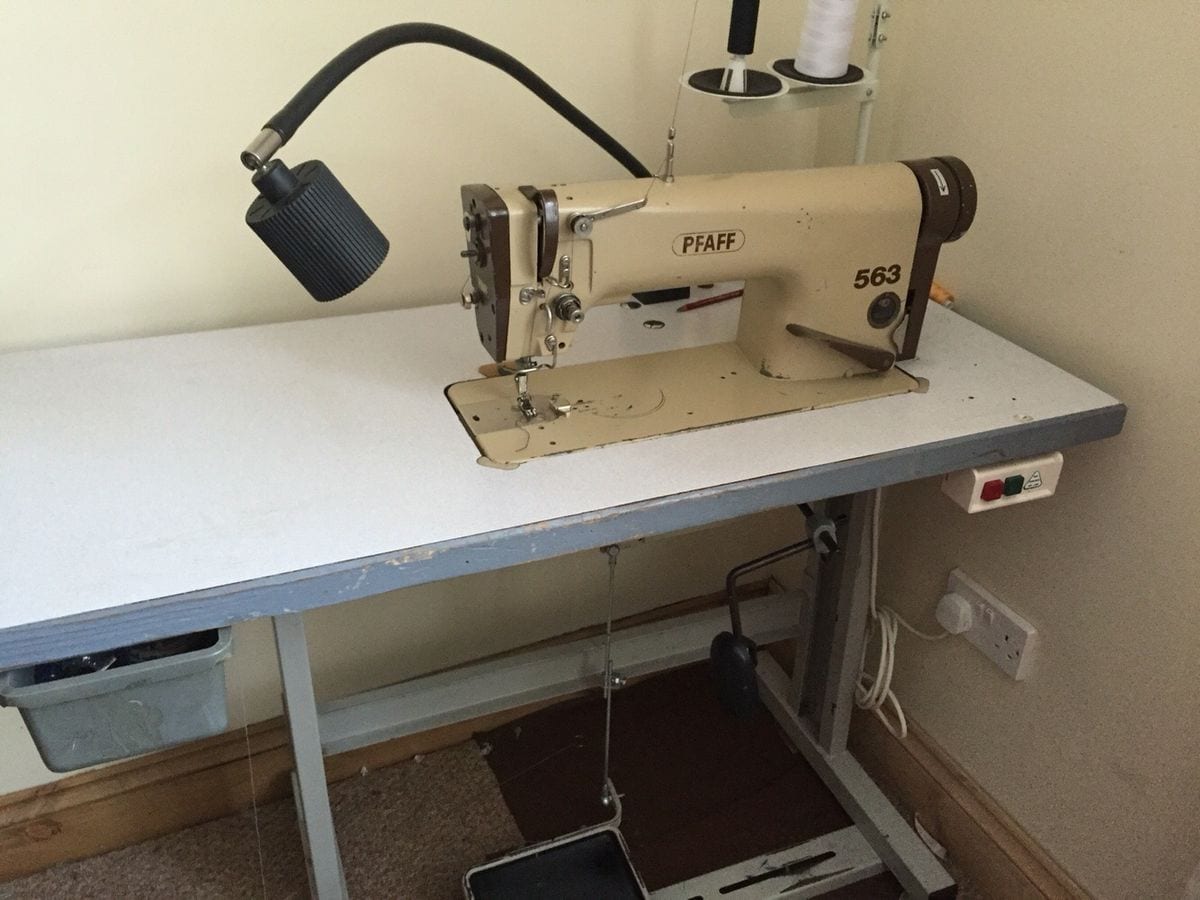 The design and construction of the flatbed sewing machine are much like the traditional sewing machine. 
The arm in the needle extends to the base of the machine like the traditional sewing machine. It is used specifically for sewing pieces of fabric together.
Post-bed
These machines have a vertical column above the flat base of the machine. The height of this column is approximately 10 to 45 cm. 
They have feed dogs loopers and bobbins in the vertical column as well. Post bed machines are used mainly for attaching emblems, making boots and gloves as well.
Cylinder bed
A cylinder bed his basically the opposite of the flatbed. They have a narrow and horizontal column. Because of this, the fabric passes around and under the column. 
The circumference of the cylinder varies anywhere between 5 to 16 cm. And it's main purpose is to sow cylindrical pieces like cuffs. The design also makes it suitable for shoes and saddles.
Off the arm
These sewing machines are not very common. 
This machine requires the user to feed material along the axis of the horizontal column. It is mainly used for seaming sleeves and shoulders.
Domestic sewing machines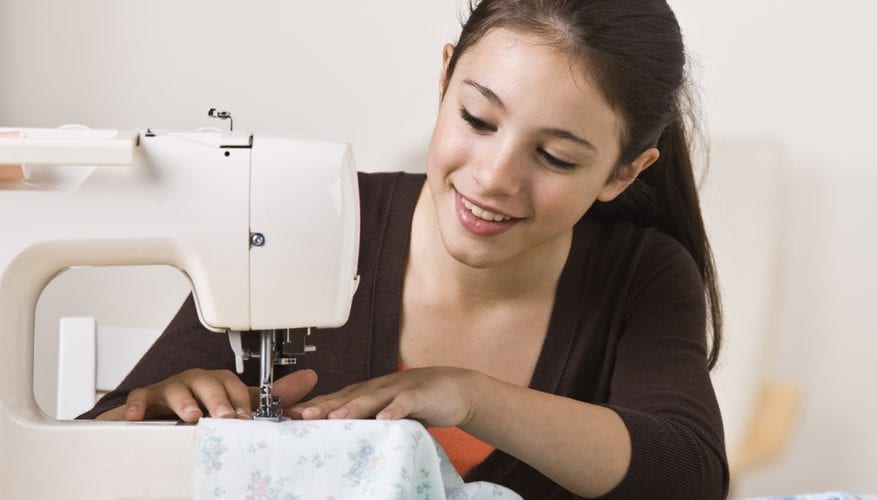 Domestic machines are built for homemakers. These machines can handle a variety of materials and perform lots of tasks. However, they cannot perform heavy-duty tasks.
The parts in the domestic sewing machines are usually made of plastic or nylon. They also work at a slow pace as compared to industrial machines and are intended for people who need to work at a moderate pace. 
These machines can operate for up to five hours, and if you run it longer that it is possible that the motors will heat up.
Domestic sewing machines are categorized into four different types. This is the manual sewing machine, Overlock sewing machine, electronic sewing machine, and now the computerized sewing machine.
Manual sewing machine
Manual sewing machines are basic machines. 
They don't require too much electrical power, and they have fewer features as compared to the electronic or computerized ones. 
However, they are the most commonly used machines due to their durability. Most of them are available as vintage models.
They do require more physical walk because they have a wheel on the side and a foot pedal. The user has to make use of the foot pedal to run the machine. 
These machines are made up of metals and can sew all types of fabrics; however, they are most suited to light and medium-weight materials.
Electronic sewing machine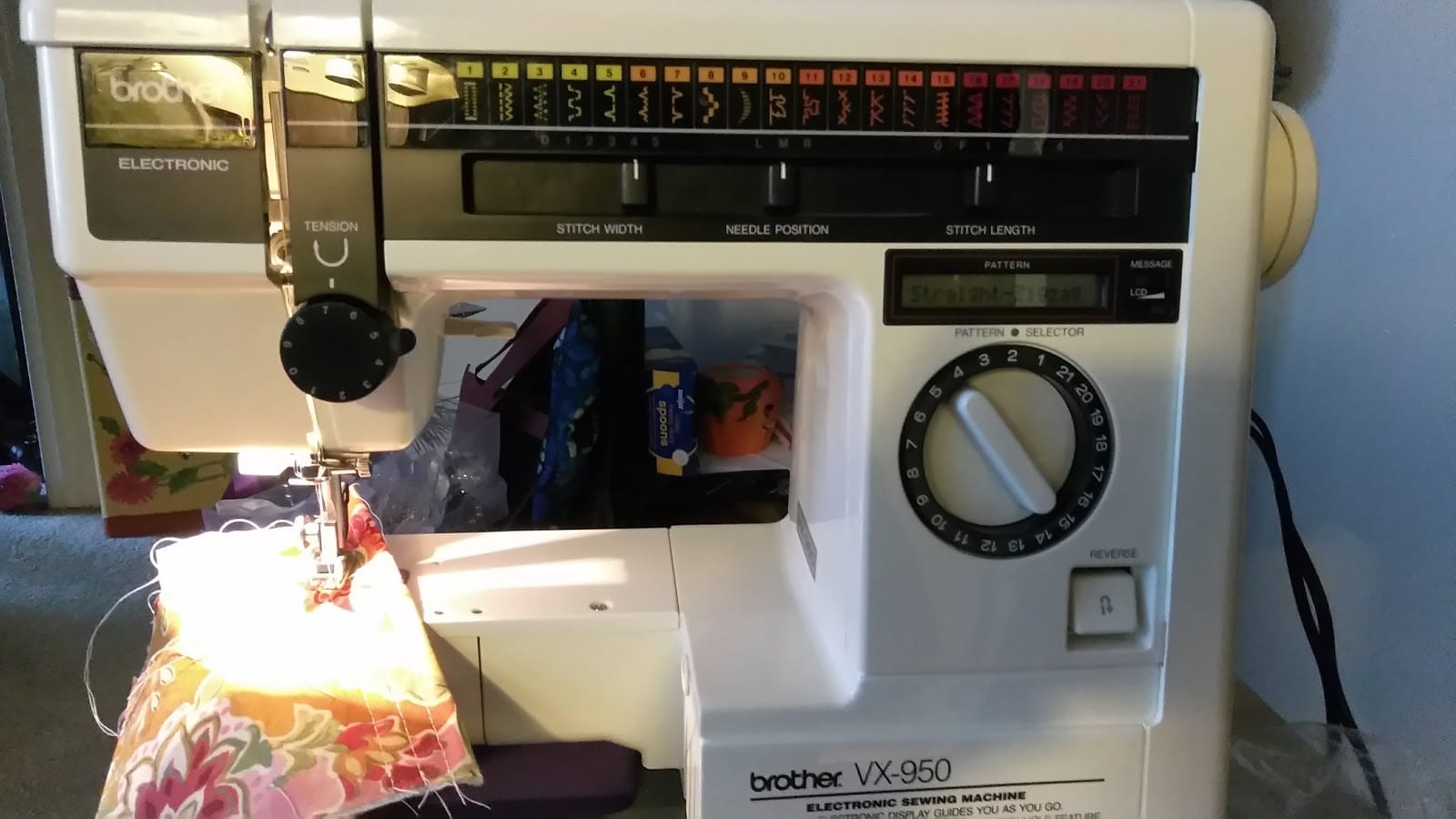 These machines have a single motor, and this is what gives power to the needle. 
They also have an electronic foot pedal, and the speed of the machine is controlled by putting pressure on the electric foot pedal. 
The user controls the fabrics with both hands. The dial on the side of the machine will control the stitch and length options.
They also contain automatic tension settings, automatic buttonhole features as well as an automatic thread cutter. 
These machines provide a variety of stitches and will sew multiple fabrics in a variety of different patterns as well.
Computerized sewing
Computer sewing machines are for advanced usage, and they do not contain dials or buttons but do have an LED display and large touchscreen.
There's a huge variety of functions, and the standard computerized sewing machines have the ability to remember your sewing projects history. 
So they automatically adjust the tension when you start another project. Advanced machines can sew complex embroidery stitches. 
These machines have USB ports so you can create designs on a computer and then link it to the machine. This sets a personalized pattern, and more advanced models can remember previous projects and download patterns from the internet. 
These machines are expensive and more costly than manual and electronic sewing machines.
Over-lock machines
These machines are designed to sew over the edge of two pieces of stitching, seaming, and hemming. 
They cutters automatically cut edges and sew. This allows you to create thickened seams quickly and easily.
They are called sergers. Some of these machines don't have cutters but contain high speed from 1000 to 9000 RPM. They are mostly used in industries for stitching, hemming and seaming.
How much does a good sewing machine cost?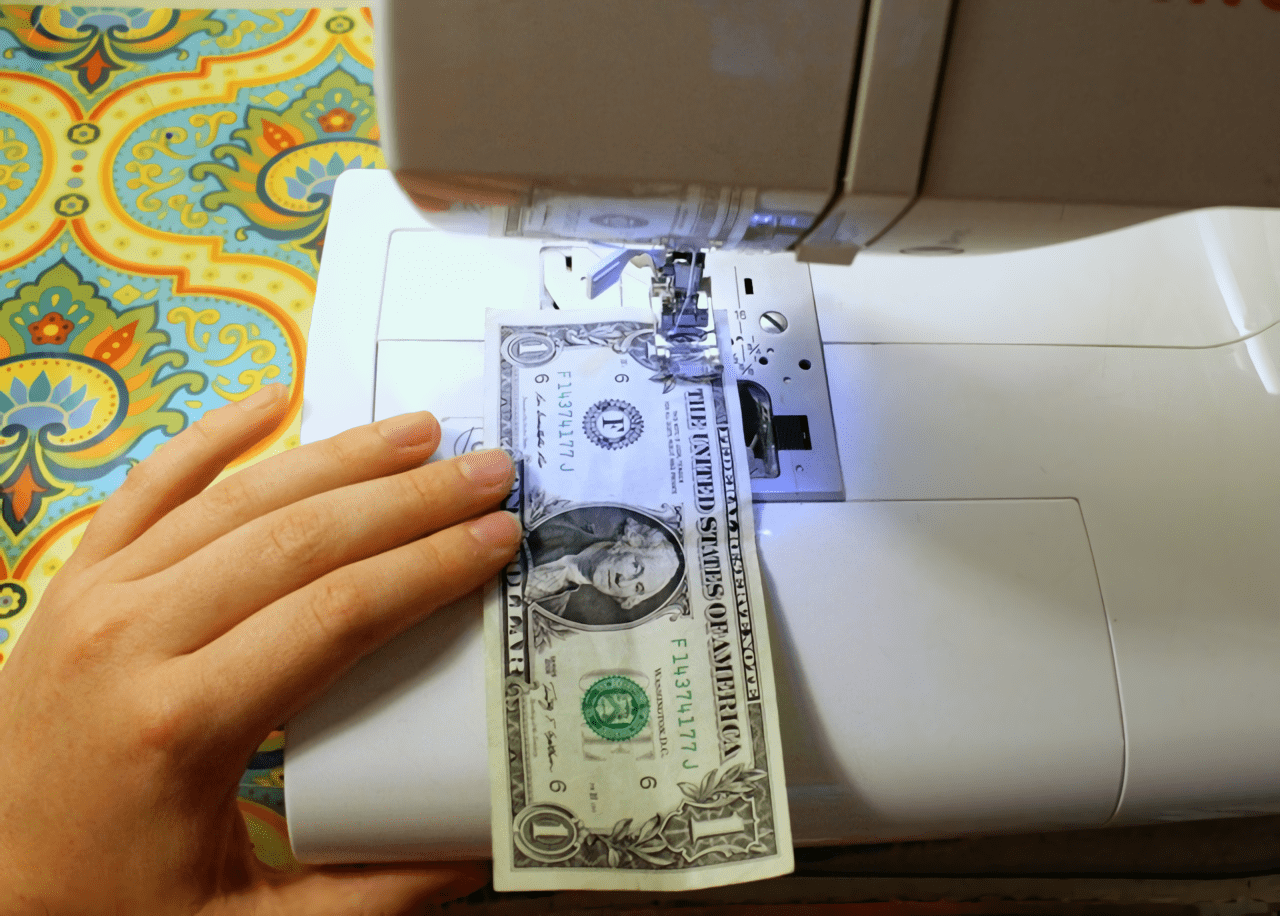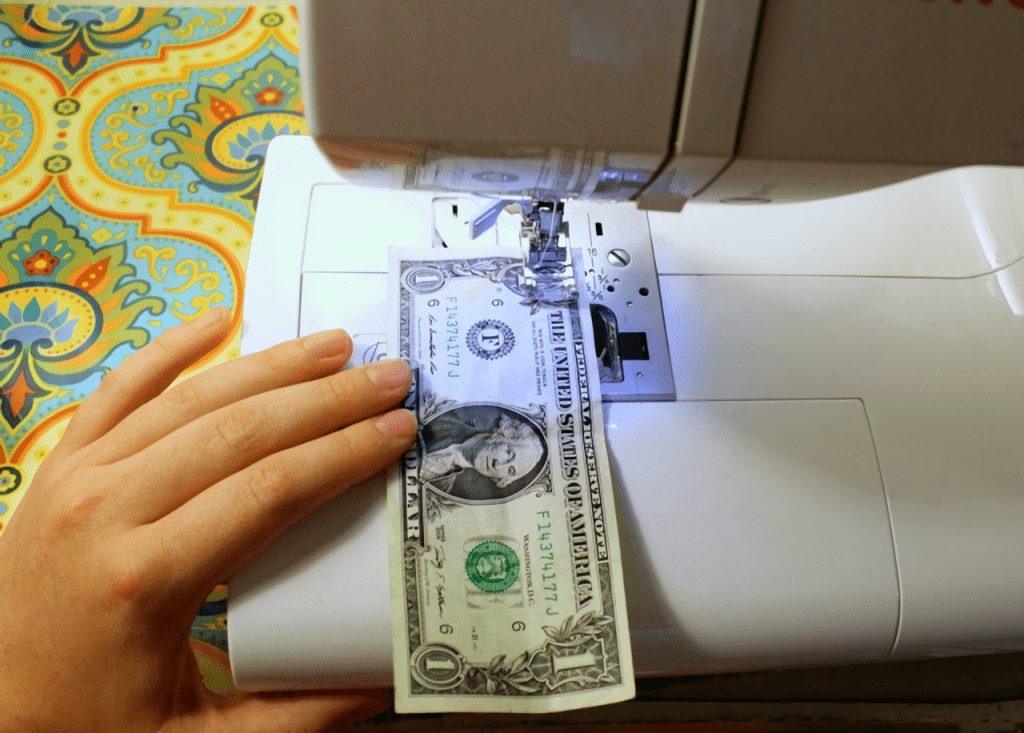 The cost of a sewing machine goes according to the brand and model. High-end machines are more expensive, however depending on the purpose you intend on using it for, it's what every dollar.
Sewing machines are made from plastic are cheaper than those made with metallic frames and may not be as durable as well. 
On the high-end range, professional-quality sewing machines with industrial-strength costs more than $3000. However, if you are shopping on a website like Amazon, the average price of a household sewing machine is approximately $300.
How to use a sewing machine?
Learning how to use a sewing machine can seem daunting since it looks like quite a complex task. Depending on the type of machine that you have, using it will vary.
However, all sewing machines have basic fundamentals, and there are a few steps that remain the same despite the type of machine you are using. So there are a few basic steps to using a sewing machine.
Step 1: This step involves picking the fabric you want to stitch.
Step 2: This step requires you to pull presser foot lever up.
Step 3: In this step, you want to place the fabric below the presser and position it as you like.
Step 4: Make sure you hold the fabric in line with the lines on the foot of the presser.
Step 5: Once you have the fabric in place, press the pedal and the machine will start to stitch. The stitch's speed can be adjusted as well.
Step 6:  When you reach the endpoint,  take a 90-degree turn and ensure making the machine is stopped, and the needle is down.
Ultimately, these are the basic steps to using any sewing machine, and if there's anything further that you need to know regarding your specific type of sewing machine, the directions will be included in the user manual.
On what to pay attention to when buying a sewing machine?
When it comes to purchasing a sewing machine, there are a few points that you need to consider. 
Firstly, your budget will play the biggest role in your decision. 
Secondly, you just need to decide the purpose of the sewing machiner.
Next, you'll need to assess whether you are a beginner, intermediate user, or professional sewer. There are sewing machines for beginners, and then there are machines for more advanced users.
You also need to consider whether you needed – additional attachments with the sewing machine or not. Some other factors to take note of is how noisy the machine is and how many stitches it provides.
Time to Make Your Decision
So now that you have an idea of the different types of sewing machines and the features and benefits that they can offer, you should be able to decide which one is the best for you.
Always ensure that you consider the factors mentioned above prior to purchasing a sewing machine to ensure you don't end up with buyer's remorse.
Ultimately this guide will help you make a well-informed decision.
Did you like the article? Please rate it: